Training Program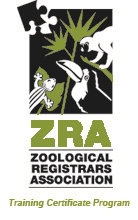 The ZRA Training Certificate Program for Zoological Registrars will include 6 modules. The learning objectives for each module supports operational excellence by providing relevant terminology, definitions, principles, concepts, best practices and relevant standards and resources. Professionals completing the Training Certificate Program will be able to perform the key duties associated with roles in the profession and be able to apply best practices.
Module 1: History and Established Tenets of Animal Records
This module focuses on the purpose for and essentials of various animal records, including their creation and management. Best practices are emphasized by highlighting the use of established tenets. Content focuses on the following three areas:
History of Records at Zoological Institutions
Essentials of an Animal Record
Keeper Daily Reports.
Module 2: Records and Information Management (RIM)
This module provides terminology, principles, concepts and best practices for Records and Information Management (RIM) and the skills and competencies required to manage all types of records throughout the information life cycle.
Module 3: Transactions
This module describes the various types of live animal transactions and provides detailed examples of workflow, documentation, and standards for recording events.
Module 4: US Federal Wildlife Permits and Regulations
This module discusses the various U.S. federal agencies and regulations that apply to wildlife in human care. Information is provided on permits authorizing regulated activities, the application process and annual reporting requirements. A detailed list of useful contacts and resources are included.
Module 5: Live Animal Logistics
This module discusses the options available to ship live animals including containers, container requirements, methods of transport and relevant Federal regulations and documentation requirements. Key considerations for transport planning and coordination with institutional staff and external agencies are also reviewed.
Module 6: Biological Samples and Biofacts
This module defines categories of biological materials including, living and non -living tissues and biofacts. Records essentials, documentation, and types of agreements for various biological materials are also covered in detail.
The Training Certificate Program for Zoological Registrars will launch by the end of 2018 and will be delivered online. The ZRA Professional Development Committee will provide an update once the specific date of launch is determined. Members and non-members will register and pay for the course or a single module(s) through the ZRA website by clicking on the Training Program tab, logging in as a member or creating an account as a non-member.
For information about the ZRA Training Certificate Program please contact the ZRA Professional Development Committee here.
More details coming soon.